EUROSYSTEMS
P55
PETROL POWER UNIT MULTI-TOOL
Benefit from the dynamic P55, available as a stand-alone power unit or with a wealth of optional accessories to tackle any task
Honda GCV 170 OHV 166cc Engine
Nine Optional Attachments
Semi-Differential Tractor Pneumatic Tyres
DETAILS
The P55 Power Unit from Eurosystems has redefined the concept of a petrol-powered multi-tool.
This innovative unit boasts a high-performing and reliable 166cc Honda GCV170 4-stroke OHV petrol engine.
The P55 offers the user a mammoth selection of separate accessories available to purchase to face every job in the garden using just one machine.
The self-propelled unit features two speeds: forward and reverse for easier manoeuvring and transporting.
The handlebars are adjustable both in height and side and are also reversible so you can tackle diverse terrain in comfort.
The accessories and wheels disengage by a lever on the handlebars to give you everything you need right at your fingertips.
Superb Comfort & Control
Adjustable handlebars ensure a high level of comfort for any operator, even over long periods of use
High Performing OHV Technology
Benefit from the very best performance, offering greater fuel economy and enhancing longevity in engine life
Anti-Puncture Tyres
The P55 is equipped with semi-differential tractor pneumatic tyres which provide unparalleled traction across all terrains
WORKING SYSTEM
Attachments Available: 9
POWER
Engine Brand: Honda
Engine Model: GCV 170
Displacement: 166cc
Fuel Type: Petrol
Fuel Capacity: 0.9L
TRANSMISSION
Transmission Method: Endless Screw In Oil Bath & Belt
Transmission Type: Geared
Number of Gears: Forward Speed + Reverse
DRIVE SYSTEM
Drive: Self-Propelled
Rotavator
This 50cm rear mount rotavator is easy to connect. The 16 steel blades can quickly prepare the seedbed, even on hard soil
Cutting Bar
The 85cm bar boasts a double blade movement, which replicates professional systems and offers an exceptionally clean-cut
Grassland Mower
The 53cm mower is adjustable from 50-75mm and can manage brambles, small shrubs and tall grass up to 60-100cm
Ridging Plough
The steel ridging plough is perfect for ploughing previously tilled soil and offers a working width of 29cm
Front Brush
The 105cm helicoidal brush allows for a great clean, even on uneven surfaces and is adjustable through five positions
Front Brush With Collector
The 88cm front brush features an ABS plastic collector with two pivoting wheels that makes for ease in unloading collected materials
Dethatcher
Easily remove moss and undergrowth with the 60cm dethatcher, two lateral full wheels make for easy manoeuvrability
Rotary Scythe
This 57cm scythe is built for haymaking and grass-cleaning, even on surfaces that are not perfectly clean and levelled
Transport Barrow
A galvanised 85L metal tank that can be unloaded using a lever, an additional plastic tank can increase capacity to 140L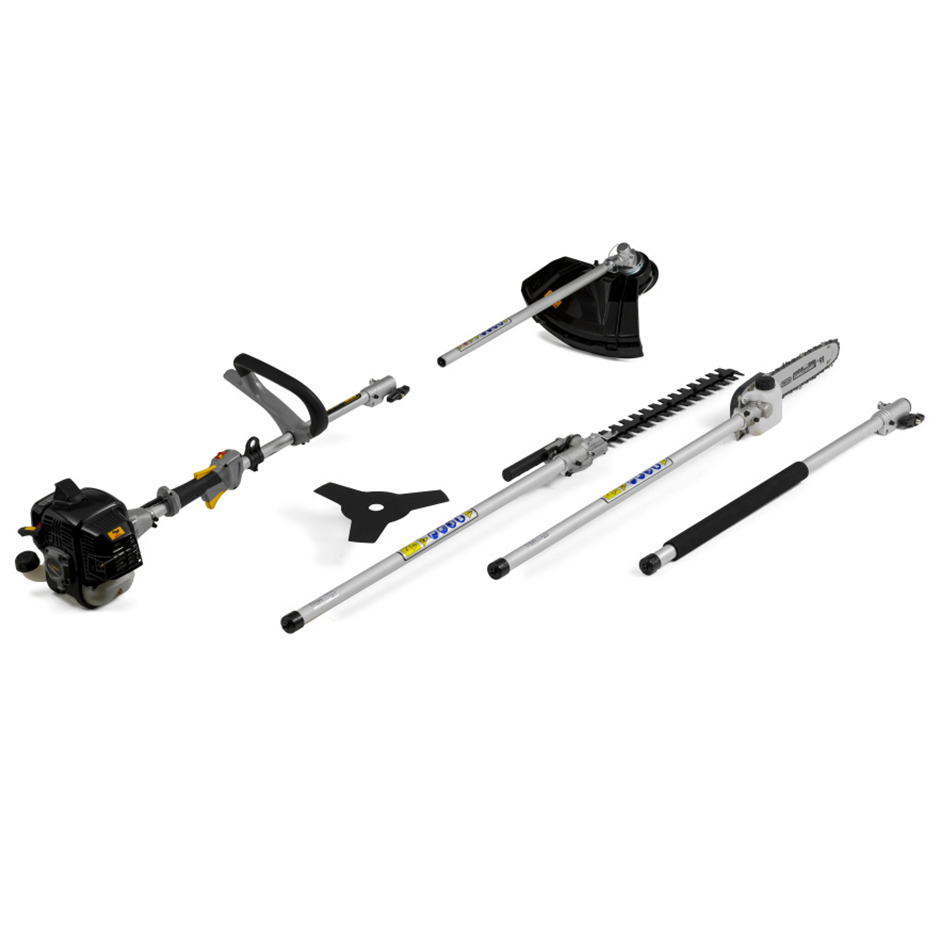 ALPINA
AMT 26 5-IN-1
PETROL MULTI-TOOL
Attachments:
5
Power: 24.4cc
Gross Weight: 7.10-9.20kg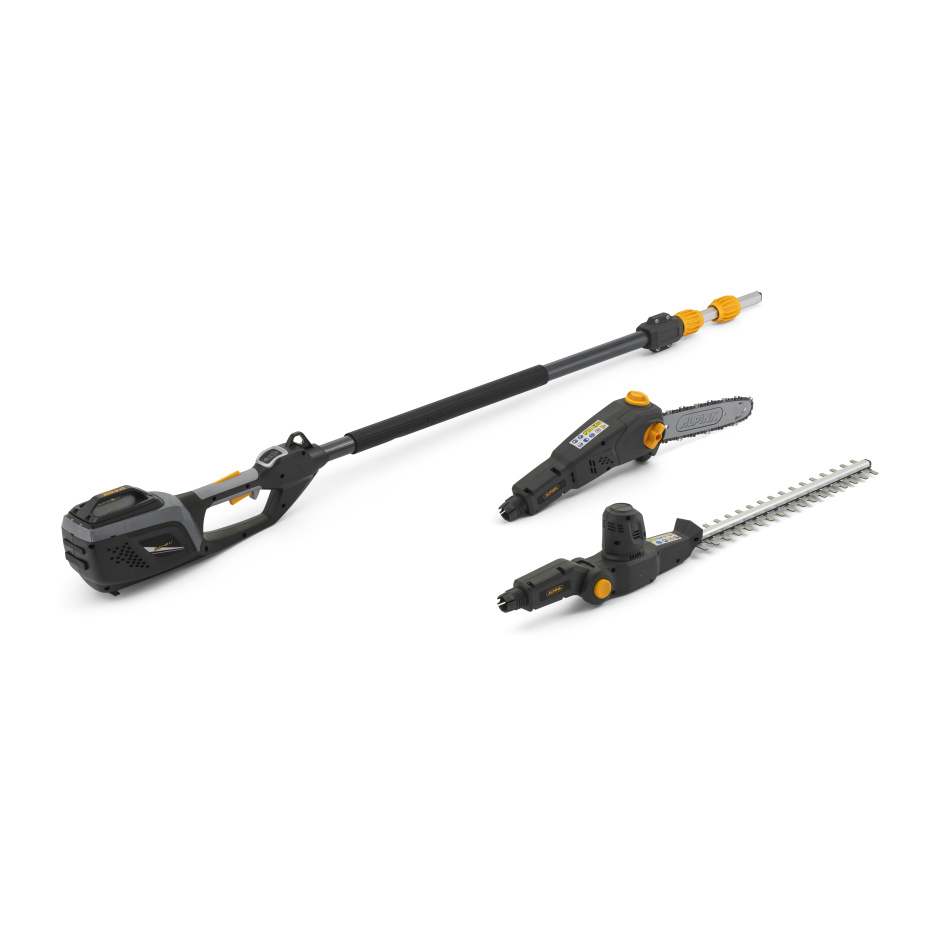 ALPINA
AMT 48 Li K
BATTERY MULTI-TOOL
Attachments:
2
Power: 0.35kW
Gross Weight: 6.48-6.98kg
ALPINA
ABL 27 V
PETROL BLOWER VAC
Vacuum Capacity:
55L
Power: 27.6cc
Gross Weight: 4.96kg