EUROSYSTEMS
CARRY
PETROL BARROW
Enjoy the height of innovation, ease of use exceptional manoeuvrability when transporting heavy loads with the Carry
Briggs & Stratton 450 E Series 125cc Engine
85L / 100kg Galvanised Tank
Semi-Differential Tractor Pneumatic Tyres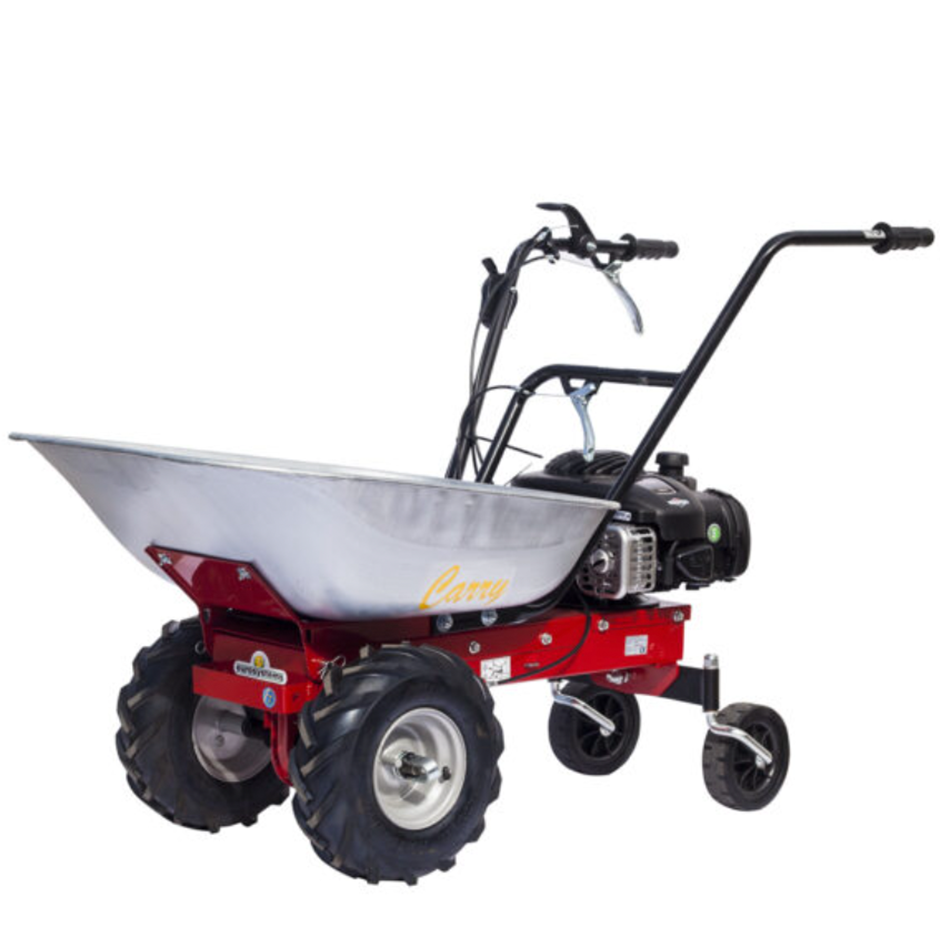 DETAILS
This dynamic, petrol-powered wheelbarrow is perfect for moving heavy loads; its high manoeuvrability and ease of use make CARRY the ideal companion for transporting small plants, wood, and foliage.
Driving the CARRY is the quality Briggs & Stratton 450E Series OHV engine, offering the operator 125ccs of power. This engine is recognisable for its ease of use, compact and lightweight dimensions, reduced vibrations and enhanced handling.
The practical 85L tilting tank allows for easy release of the load on the ground and takes no physical toll on the operator.
Optional accessories allow this wheelbarrow to increase its load capacity up to a maximum of 160 litres.
85L Tank
The galvanised tank enables the CARRY to perform season after season without the weather taking a toll on the strength
OHV Technology
Enjoy the very best performance that delivers longevity in engine life and enhances fuel economy
Sturdy Tyres
Semi-Differential Tractor Pneumatic tyres provide excellent traction on all types of terrain
WORKING SYSTEM
Transport Tank:
Galvanised
Tank Capacity: 85L
Weight Capacity: 100kg
TRANSMISSION
Transmission Method:
Endless Screw In Oil Bath & Belt
Transmission Type: Geared
Number of Gears: Forward Speed + Reverse
POWER
Engine Brand:
Briggs & Stratton
Engine Model: 450 E Series
Displacement: 125cc
Fuel Type: Petrol
Fuel Capacity: 0.8L
EQUIPMENT
Collector Emptying:
Tipping Lever
Collector Capacity: 85L
DRIVE SYSTEM
Traction:
Front-Wheel Drive
Drive: Self-Propelled
Snow Blade
A front snow blade with easy coupling and a working width of 85cm
Flat Tank
Strong plastic tank with a volumetric capacity of 140L, a working increase of 55L
Snow Chains
Strong and durable iron snow chains increasing traction for the CARRY
EUROSYSTEMS
P55 (With Tank Attachment)
PETROL POWER UNIT MULTI-TOOL 
Optional Attachments:
9
Power: 170cc
Drive: Self-Propelled
ALPINA
APR 25
PETROL PRUNING SAW
Bar Length:
10″ / 25cm
Power: 25.4cc
Gross Weight: 5.11kg
ALPINA
ABL 27 V
PETROL BLOWER VAC
Vacuum Capacity:
55L
Power: 27.6cc
Gross Weight: 4.96kg