ALPINA
APR 48 Li K
BATTERY PRUNING SAW
The APR 48 Li is a 48V cordless pruning saw that has a 30cm guide-bar and a 1000w electric motor
Automatic, Adjustable Chain Oil Pump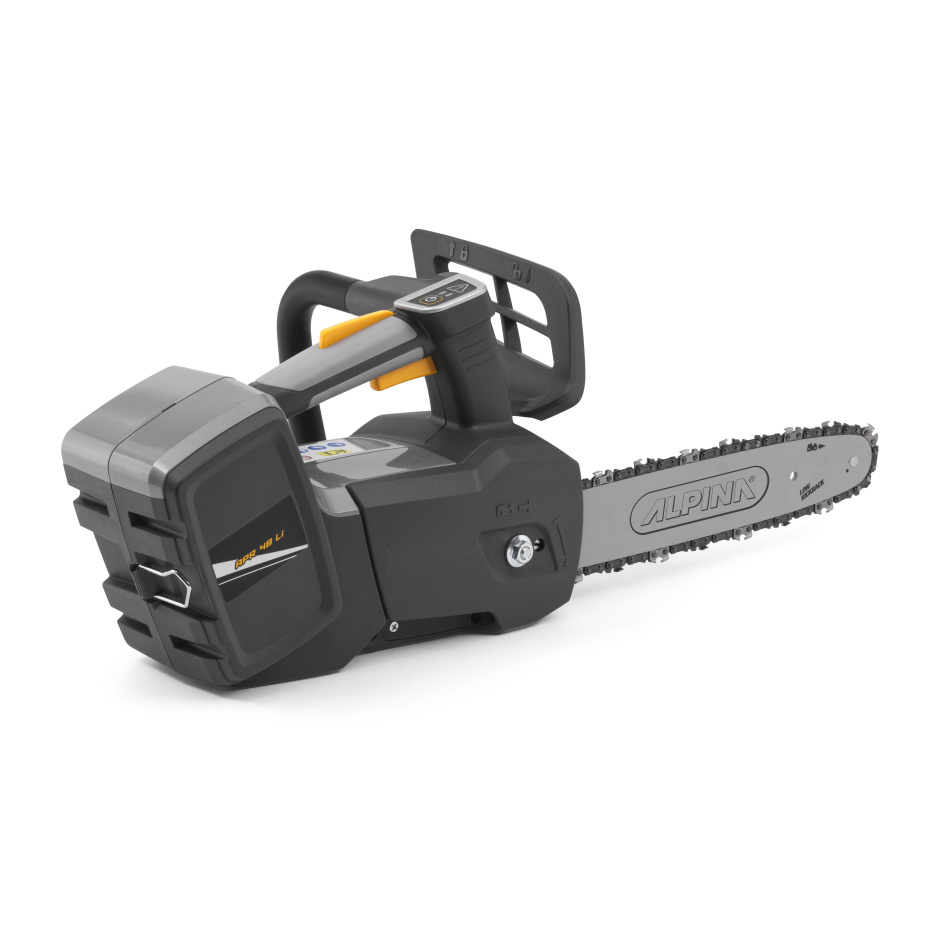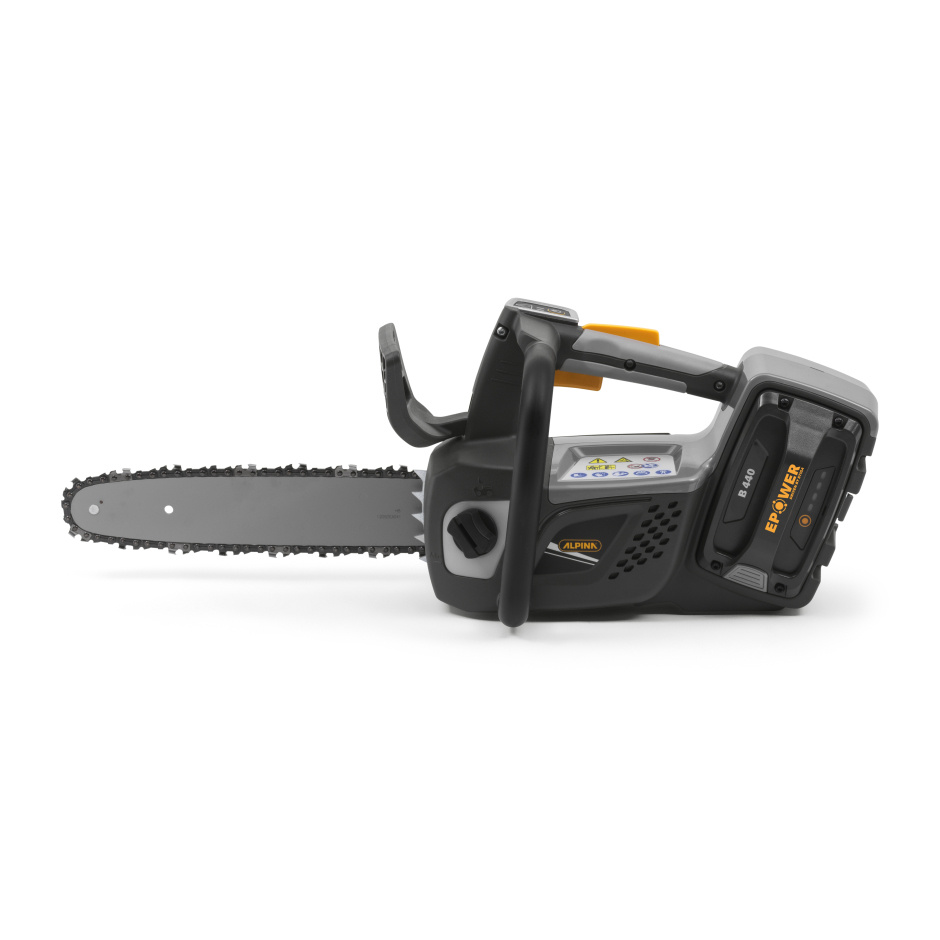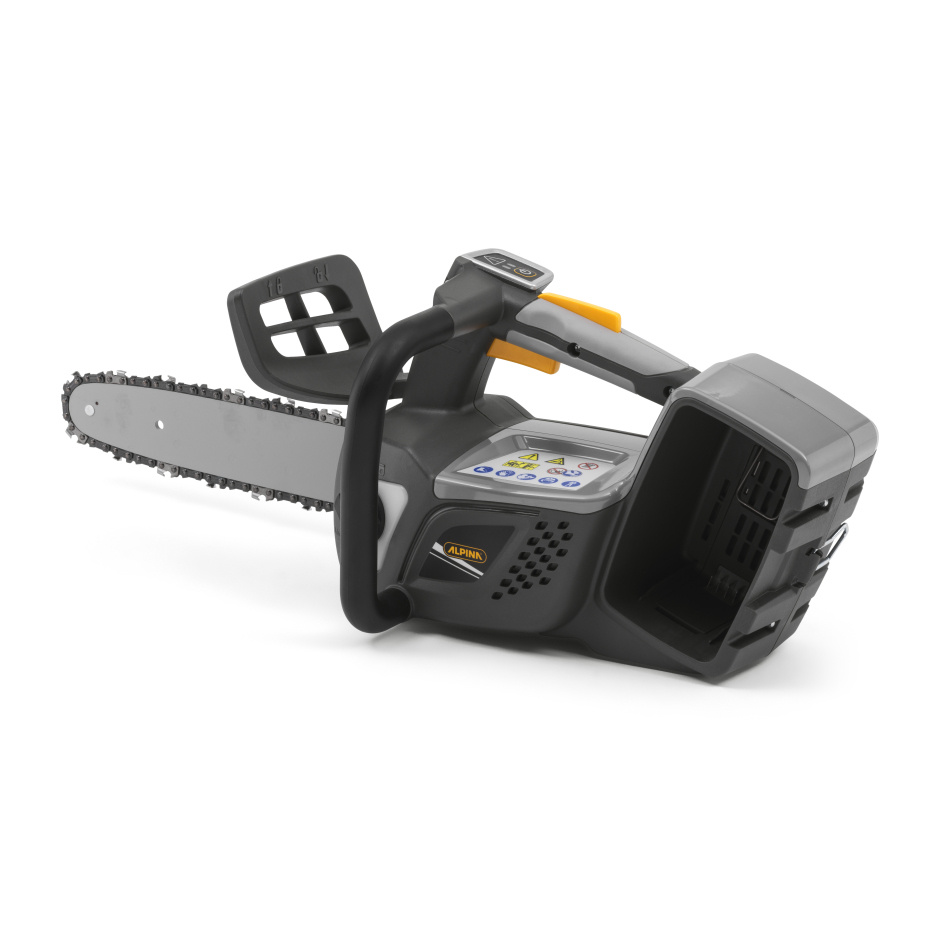 DETAILS
With no petrol engine to weigh it down and no mains cord to get in your way, the compact Alpina APR 48 Li cordless chainsaw is hard to beat in terms of handling and user safety!
Great for pruning, firewood preparation and DIY applications, the APR 48 Li works with a high-capacity, high-output 48V (4Ah) lithium-ion battery with a powerful 1000w brushless motor. These features ensure you'll get true petrol-equivalent performance, but with zero emissions, less noise and no starting-hassle.
Ergonomically optimised throughout – and therefore easy to control and manoeuvre – the APR 48 Li combines a comfortable soft-touch top handle with an extra-wide front handle and an impressively lightweight design (just 3.4kg – with bar/without battery).
Automatic chain lubrication keeps the cutting-gear running smoothly at all times, while side chain-tensioning means it's simple to make those performance-boosting adjustments.
The APR 48 Li benefits from a metal belt hook that will prove extremely handy if you're looking to tackle in-tree lopping jobs.
Other noteworthy features include a transparent chain-oil tank for an at-a-glance checking of the fill level, a thumb-support pad for a more positive push, and an LED control pad that lets you know when the battery is securely in position ready to go.
Please note; this pruning saw is for use by trained tree service operators only. Use without proper training can result in severe injuries. Appropriate protective gear should always be worn when using power tools such as this.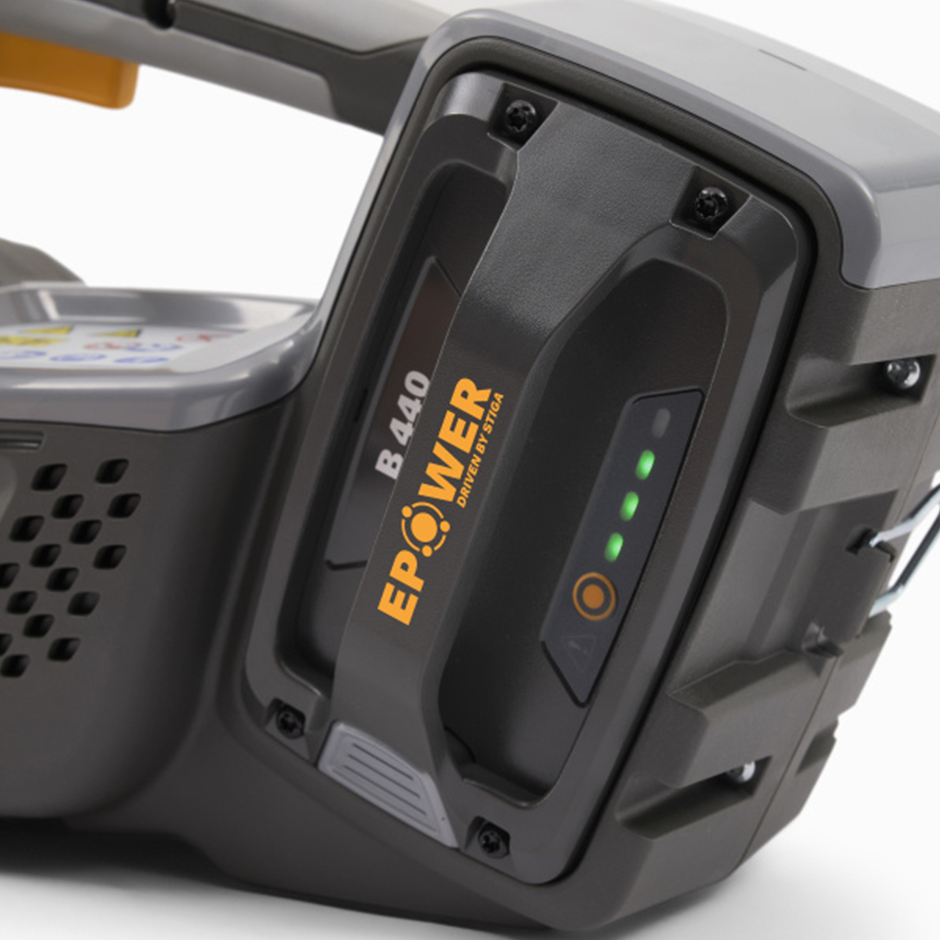 Latest Li-Ion Technology
In addition to the lack of maintenance, cables, fumes and fuss, you can benefit from the multiple applications of the 48V battery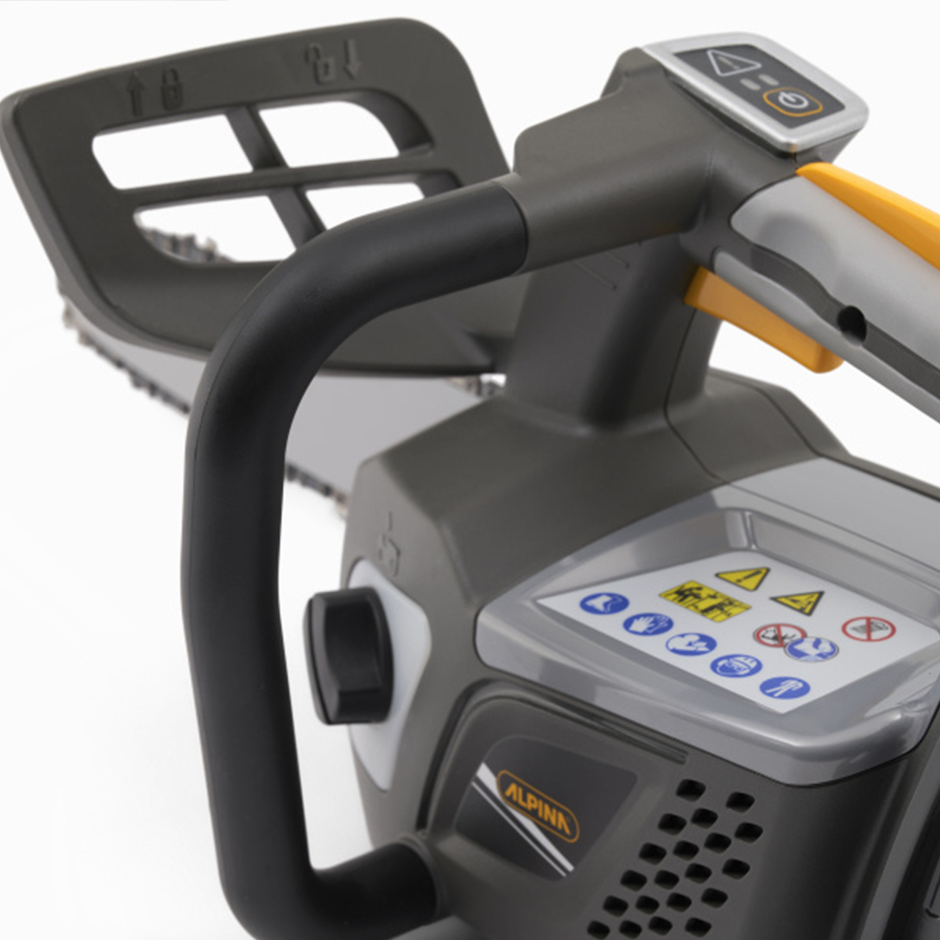 User Comfort In Mind
The soft-touch handle, ergonomically sculpted grip and thumb support is comfortable to work with and increases leverage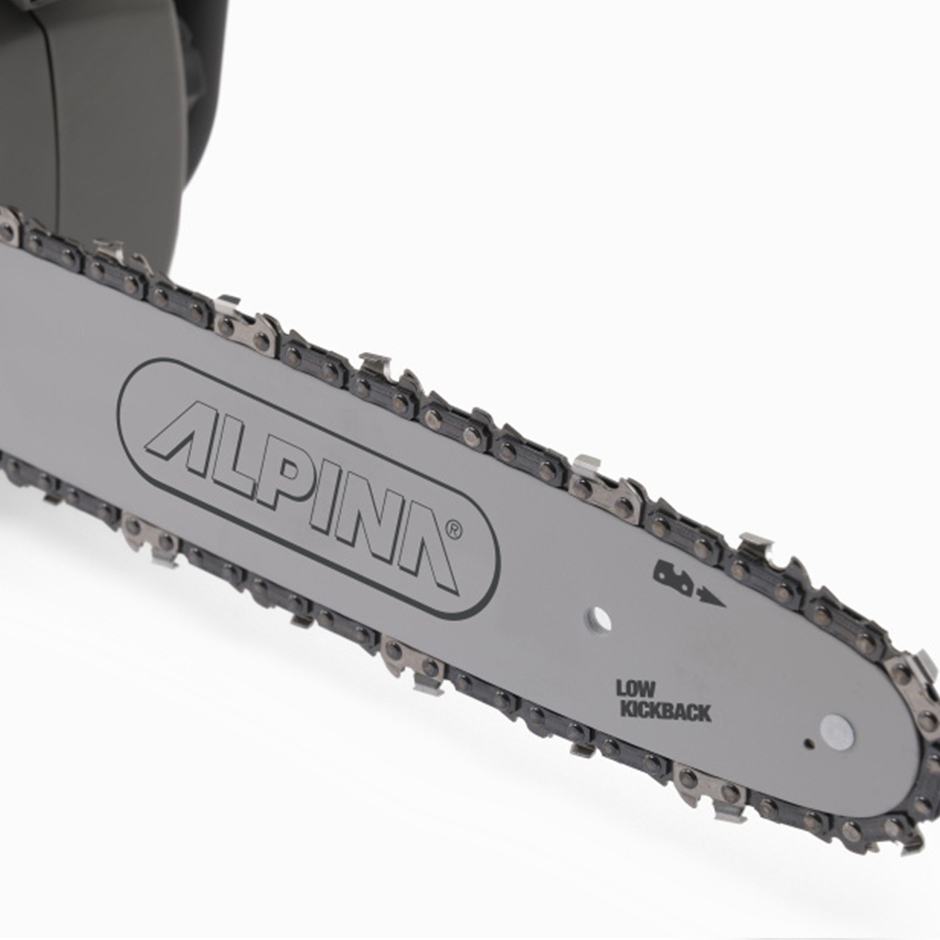 Quality Bar & Chain
Enjoy the same quality and performance and petrol-equivalent models with the premium bar and chain that reduces kickback
CUTTING SYSTEM
Bar Type:
Sprocket Nose
Bar Length: 12″ / 30cm
Chain Type: 3/8″ .050″ (91P045E)
Chain Speed: 20 m/s
Chain Brake: Manual
Chain Oil Tank Capacity: 0.14L
Chain Oil Pump: Automatic
Chain Tensioning System: Side Screw Tensioning
POWER
Power Source:
Lithium-Ion Battery
Battery Capacity: 4Ah
Power: 1kW
Maximum Engine Speed: 11000rpm
Overload Protection: Yes
Voltage: 48V
Working Time (+/-20%): 12 Mins
Included: Lithium-Ion Battery, Standard Charger
EQUIPMENT
Handle Type:
Top Handle
Vibe Control System (VCS): No
Soft Grip Handle: Yes
TOOLS KIT
Included: Single Standard Charger & Compatible Battery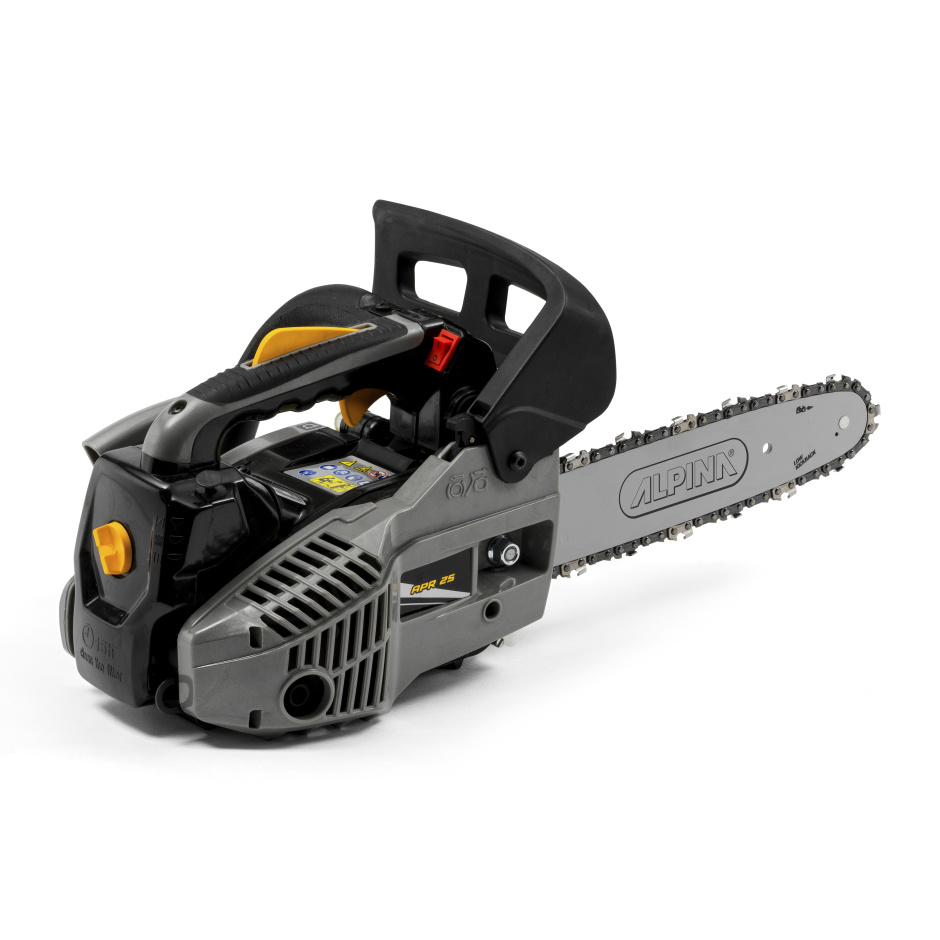 ALPINA
APR 25
PETROL PRUNING SAW
Bar Length:
10″ / 25cm
Power: 25.4cc
Gross Weight: 5.11kg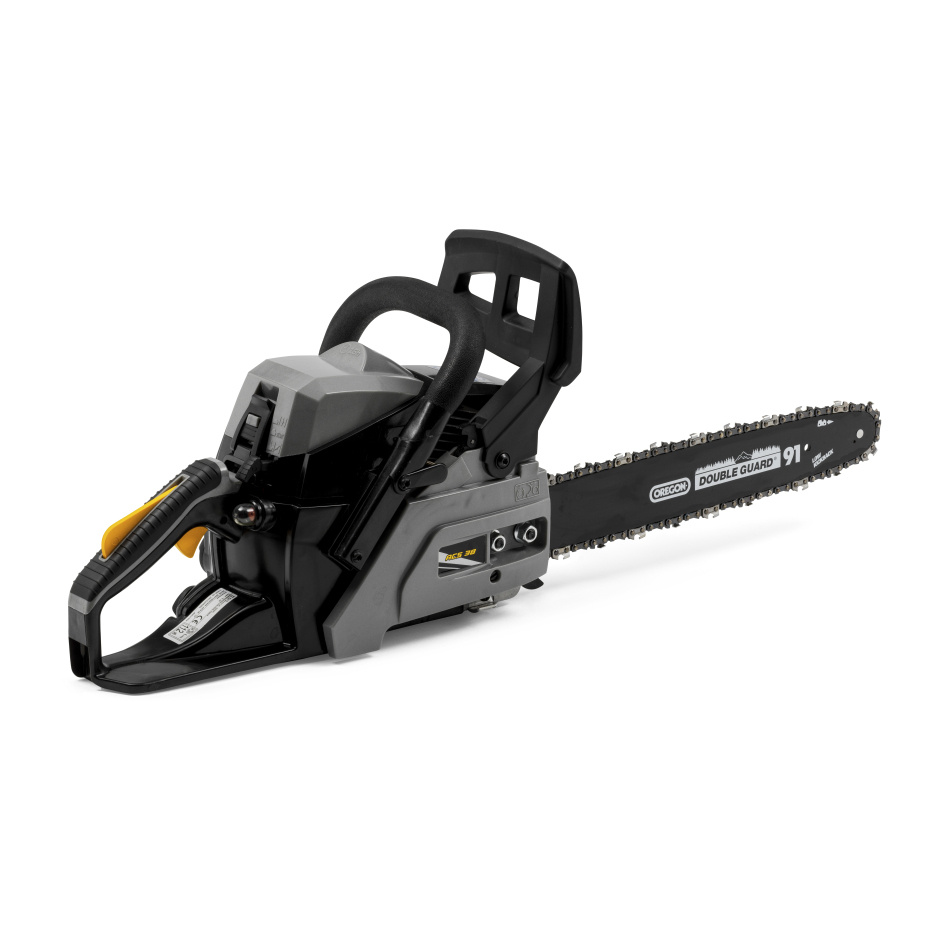 ALPINA
ACS 38
PETROL CHAINSAW
Bar Length: 14″ / 35cm
Power: 37.2cc
Gross Weight: 6.7kg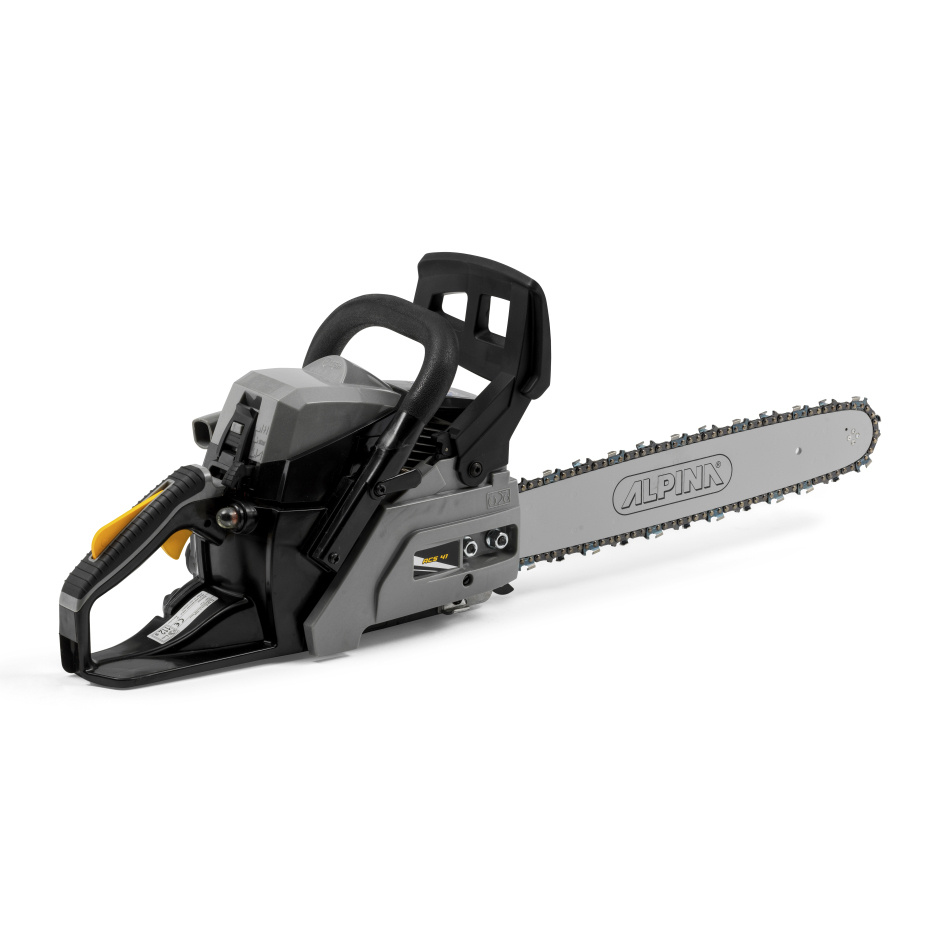 ALPINA
ACS 41
PETROL CHAINSAW
Bar Length:
16″ / 40cm
Power: 40.1cc
Gross Weight: 6.925kg